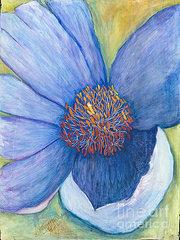 Artistic inspiration - Sherry M. Harradence

Most artists have a preferred medium in which to work and after many years exploring painting, ceramics, printing, welding, and more I have embraced mixed media printmaking. I find inspiration in this form of printmaking, which uses a matrix such as plexi-glass plates, copper, or blocks to produce truly one-of-a-kind impressions. Monoprint or relief printing, is a style of printing that dates back centuries. Famous artists who were masterful printmakers include Rembrandt, Albrecht Dürer, and Pablo Picasso.
In my studio I have a custom Conrad Monoprint Press on which to play, experiment, and create. Through relief printing I am able to make multiple images from one matrix, but while they might be similar they are each unique because each time I transfer the paint or ink to paper the results are distinct, not an exact replica. It takes skill and patience because to create a monoprint the artist is painting in reverse ﹘ a relief print is essentially mirror image to what is on the press.
Techniques for transferring the painted image under pressure to the paper vary, which is another part of printmaking I really enjoy. It is possible to create different images by using techniques such as Collagraph, Collage, and hand painting as well as by altering the type, colour, and viscosity of the inks or Oils/Acrylic/Watercolor paints. I enjoy the challenge of creating beauty from so many possible variables and my love for colour is perhaps bordering on obsession. When I print editions I carefully choose from my collection of printmaking, handmade, and specialty papers that I have sourced from around the world. Each time that I pull the first print of any series it is like Christmas and I cannot wait to see what is under the press blankets. My work is always an original that cannot be duplicated with a paint brush.
While I do admire the work of printmaking masters like those I've already mentioned, my late husband Bruce was very instrumental in my decision to channel my creativity at my custom printing press. Bruce was a stalwart supporter of my artwork and if it wasn't for his encouragement I would not be painting today. I took over my poor husband's basement with presses, kilns, metal, paints, and every kind of artistic material available. He finally said rather than dabbling in everything I should pick one and so I did: My monoprint press. Sadly Bruce was killed in a tragic accident in 2003, but I think of him every time I use my press and he is always with me in my heart as I work. Thank you, Bruce, for helping me find my niche in the art world. I miss you so much.

More about the artist – Biography for Sherry Harradence

Sherry displays a natural artistic talent that has been evolving since early childhood, when she doodled all over everything in the house and would sometimes be in trouble because of her boundless creativity. Once she worked on approved surfaces her parents encouraged her to follow her dreams and were very supportive.

While Sherry has had formal training as an artist, her style is fresh and expressive. Her Mixed Media, Watercolours, Monoprints and Pastel paintings have been published online and in creative arts magazines as well as displayed in Private and Corporate Collections in Canada and the USA. A busy CIBC Mobile Mortgage Advisor as well as an Artist and Art teacher, Sherry enjoys helping others find their unique artistic expression.
A proud Canadian, Sherry was born in Pembroke, Ontario but also lived in the Western provinces of British Columbia and Alberta as she was growing up. Her family moved around the country because her father served in the Canadian Armed Forces. As an adult Sherry moved to the US in 1993 to pursue a publicly traded, manufacturing business venture. She now divides her time between Arizona and Canada and feels she has the best of two countries to call home.
Sherry's art and business studies include Okanagan College, Caribou College, Southern Alberta Institute of Technology (SAIT), Career College, Yavapai College, Mesa Community College, and participating numerous workshops in various mediums around North America.
Most recently she has had work displayed at On The Edge Gallery, Xanadu Gallery in Scottsdale, AZ as well as other galleries, coffee shops, furniture / design stores, online Web Sites Houzz and published Art Books/magazines.
Sherry encourages her art students and other artists to use any brushes and supplies without reservation. Nothing is off limits in her studio and she firmly believes that all artists need to nurture and be nurtured in order to grow. "An Artist is one who paints their own painting deep within their soul". She feels blessed for the great sense of balance in her life and career.