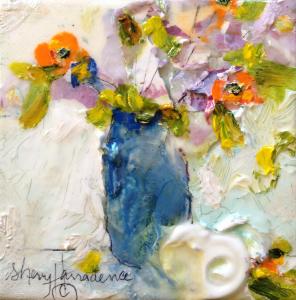 Dear Sherry,

Thank you for your art submission. We have reviewed your artwork entitled "Budding Bits" and are pleased to inform you that it is included in our newest art book entitled "Reflections, A Collection of Art".

We have included the best one hundred artists and they represent some of the most creative and thought provoking works we have seen. Each piece will be featured on it's own page, along with the artists' name, art description and artwork title. The book itself will be a beautiful full-color, hardcover edition printed on heavy coated paper. Copies of this art book will also be sent to top art galleries, in digital format.

Please use the link below to preview the entire book, and also to reserve your own personal copy - for yourself and your loved ones. Your artwork is featured on page 28. Please allow 4-6 weeks for printing and shipping.

Thank you for allowing us to showcase your artwork!

http://www.fine-artbooks.com/bookstore.html

The artwork remains the exclusive property of the artist.


Best wishes,

Megan Summers
Director of Publications
Art Impressions Publishing, Inc.